Adult Education Series: Adam Levine, Director, Toledo Museum of Art
Sunday, May 15, 2022 at 10:30 PM In-Person & Zoom

Join us as we welcome Adam Levine who will discuss "Reflections on Jewish Art at the Toledo Museum of Art"

The Toledo Museum of Art seeks to tell a global and inclusive art historical narrative, one built around artworks of the highest quality. But where does "Jewish" Art fit into this? Join Adam Levine, TMA Director, for his reflections on how he approaches the acquisition and display of art representing his—and your—faith tradition.

Adam M. Levine is the 10th director of TMA since its distinguished founding in 1901. Levine originally joined TMA in 2012 as an Andrew W. Mellon Fellow and went on to increasingly senior management roles at the museum, ultimately serving as deputy director and curator of ancient art. During his six-year tenure at TMA, Levine curated a diverse range of exhibitions, advanced the Museum's first campus master plan and shared oversight of TMA's $16 million budget and 250 employees.

THIS PROGRAM IS OPEN TO THE MEMBERS OF ALL LOCAL CONGREGATIONS.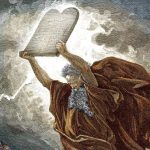 Shavuot Dairy Dinner & Tikkun with Rabbi Robert Dobrusin
Saturday Evening, June 4, 2022 beginning at 7:00 PM In-Person & on Zoom
Rabbi Dobrusin will discuss "The Curious Incident on Mt. Sinai: Moses and the Breaking of the Tablets"

7:00 PM: Light Dairy Dinner in the Social Hall
7:45 PM: TIKKUN with Rabbi Robert Dobrusin
8:30 PM: Dramatic Reading of "The Book of Ruth"
9:00 PM: Kiddush, Havdallah, and Dessert
9:30 PM: Maariv

The holiday of Shavuot is known as Z'man Matan Torataynu: the time of the Giving of the Torah. We best honor the anniversary of the revelation at Sinai by engaging in Torah study and celebrating the wisdom and inspiration Torah provides. This Shavuot evening, we will study one of the most unusual and provocative stories in the entire Torah: the story of Moses and the breaking the Tablets of the Law on Mt. Sinai. We will carefully read the Torah's accounts of this story and then explore both traditional and contemporary commentaries as they explain Moses' action in vastly different ways. What was Moses' thinking and why did he take this drastic step? Was it a spontaneous act or was it carefully considered? Was it justified? And, finally, what can the story and the commentaries teach us about the role of Torah In our lives?

Please RSVP for the Shavuot dinner by Friday, May 27, 2022 to kbrody@cbitoledo.org. There is no charge for CBI members to attend but you must RSVP.